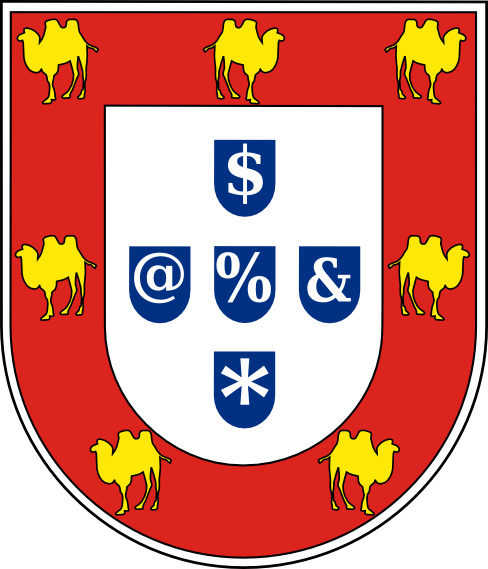 The Tenth Edition of the european Yet Another Perl Conference will be held in Lisbon, Portugal, in the Faculty of Sciences, University of Lisbon, from 3 to 5 August.
Registration: 100€ (40€ for full-time students).
Latest News
29/07/09
#9 Newsletter: Over 300 attendees,World.pm social meeting, Sponsors and more
In this issue:
current stats
World.pm social meeting
more sponsors
next announcements
Check details at the Wiki
19/07/09
#8 Newsletter: Stats, Conference Dinner, Quizz Show
In this issue:
current stats
send-a-newbie results
conference dinner
the quizz show
Read it in the wiki
05/07/09
Send-a-newbie is sending three newbies to YAPC
Edmund writes:
First, a quick recap: the Send-a-Newbie program is meant to help people go to YAPC who have never been to a YAPC before, are unable to do so by their own means and already involved in some way in the Perl community.

Applications were submitted, questions were asked, answers were given, difficult choices made and we now have our lucky YAPC Newbies.

We're delighted to announce that we will be sending the following three to YAPC in Lisbon:

Alan: Based in India, started using Perl about a year and a half ago. Since then, he's contributed to several CPAN modules, released WWW::Rapidshare::Free and is currently working on the TPF grant "Fixing Bugs in the Archive::Zip Perl Module". He's never been to any meetings of the Perl community.

Alistair: Based in Scotland, has just finished university, started using Perl for creating his websites and performing several small tasks. When choosing a placement (for his degree) he chose a Perl shop in London, and became part of London.pm.

Rosellyne: Based in England, self-funded university student. Also a grant manager for TPF (past four years), member of London.pm and active on PerlMonks. Keen to meet people she's worked with for years.

There were other great applications that we will not be able to send. Hopefully they'll be able to attend a future YAPC.

All of this is possible due to the lovely people who have donated and helped. It's been a great demonstration of the community that has formed around Perl. Thanks also to the YAPC::EU organizers who have been supportive of this project right from the start.

Thank you to all involved and see you all at YAPC::EU::2009!
We're all very happy for the success of this initiative.
30/06/09
#7 Newsletter: Current stats, Further Sponsors, Send-a-Newbie Updates
In this issue:
current stats - more than 230 registered atendees
further sponsors - welcome, ShadowCat
send-a-newbie updates - results should be available shortly
More in the Wiki.
01/06/09
#6 Newsletter: Partner Program, Numbers, Receipts and Personal Schedules
In this issue:
Partner program — bring your loved ones!
Numbers — about 180 registered attendees, and counting!
Receipts — please fill in your data so we can prepare them!
Making your personal schedule — mark your selected talks.
Send-a-newbie current status — you're still on time to help a newbie.
More information in the
Wiki
!
21/05/09
#5 Newsletter: Early bird, Speakers, Training Courses, Banners and more
In this issue:
early bird registration fee -- it is ending!
speakers -- check the list of great speakers at YAPC::EU!
training courses -- four different training sessions!
banners (for your blogs and websites) -- spread the word!
receipts -- how and when to get them
More information in the wiki.